media update
Christine Gerber highlights September's top social media stories and reveals why they made headlines.
Instagram co-founders say goodbye
The news: the New York Times recently announced the departure of Kevin Systrom and Mike Krieger from Instagram. The co-founders, who developed Instagram in 2010, announced their leave, without providing any other statement about their resignation or any reason other than to want to "explore their creativity again".
Does this mean we can expect a new social platform in the future? Maybe, but it's too early to tell.
Why it's making headlines: Systrom and Krieger's decision to leave has been shrouded in mystery. Did they suddenly get tired of the platform? Were they looking for something new, but unable to find it with Instagram?
According to Tech Crunchthere has been a lot of tension between the co-founders and Facebook in terms of Instagram's autonomy.
"Facebook had agreed to let [Instagram] operate independently under the Acquisition Agreement. But in May, beloved Instagram VP of Products Kevin Weil joined Facebook's new blockchain team and was replaced by former Facebook News Feed VP Adam Mosseri – a member of Zuckerberg's inner circle," says TechCrunch writer Josh Constine.
A source said Tech Crunch that "Mosseri was very disappointed not to have obtained the position of 'head of Facebook', which went to Will Cathcart".
It's still unclear who will lead Instagram as the replacement for the two co-founders, leading to a bit of uncertainty surrounding the app.
The Story of Romeo and Juliet by BuzzFeed
The news: BuzzFeed is about to come out Romeo loves Julietan eight-day tale of the infamous Romeo and Julieton Instagram from Tuesday, October 9.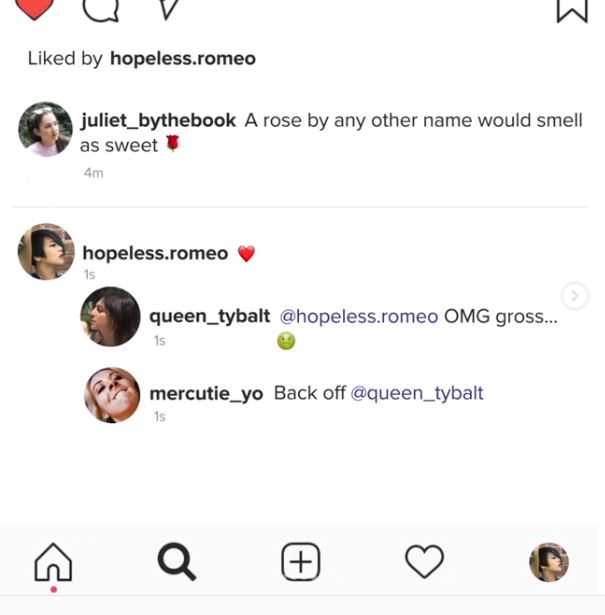 Why it's making headlines: BuzzFeed will tell the story on Instagram using seven character profiles. These profiles will include individual Instagram profiles specially designed for the characters, photo posts, Instagram stories, comments and IGTV – a long-form video platform.
The characters are comprised of an all-female cast, and Instagram users will be able to follow them, comment on story developments, and "participate" in the narrative before it launches, as well as after.
According to executive producer Jennifer Berky, the platform wants to explore whether audiences will take a more active role in the story.
"What we're looking for is really for the audience to interact with the characters in different ways," she says. "They can experience the story with the characters and shape the narrative."
Why an all-female cast? "Diversity is very important to us and we wanted to tell a story about identities that aren't often portrayed in the media," says Maggie Jung, who runs by BuzzFeed experimental group, and who will also play the role of Romeo.
Storytelling is an important part of any good marketing campaign, so it's interesting to see the social platform experimenting with it, especially since it's also a media company.
However, with Romeo loves Juliet, the brand will be able to "connect" and communicate with its audience, allowing them to hear their "likes" and "dislikes". This will give him a chance to tweak his reports based on audience feedback (and tailor future stories based on what the audience wants).
Snapchat gives editors access to users' posts
The news: Snapchat has announced the launch of a new feature, "Curated Our Stories", which will allow publishers to access users' public posts so they can create Live Stories from them.
Why it's making headlines: The new feature is an extension of the Our Story feature, which is a collection of Snaps submitted by the platform's community. The collection is made up of images or videos of a particular topic or event, allowing other users to see them from a different point of view.
Our Story allows Snapchat's internal team of editors to turn public posts into themed editions of public events and breaking news, similar to Twitter's "Moments."
https://www.youtube.com/watch?v=pZeDPfHiBC8
"With the expansion, Snapchat will continue to make Our Story, but now lets publishers do the same, starting with a group of 26 media companies ranging from major TV programmers like CNN and Viacom to social meme publishers like Daquan", reports Digiday writer Sahil Patel.
Publishers will be able to create stories from users' public posts and publish them on Snapchat Discover as well as embed them on their own websites and apps.
This will make it even easier for publishers to share information across multiple platforms, as they can simply grab a video or image from public sources and share it wherever they want.
Want to stay up to date with the latest news? Subscribe to our newsletter.
Choosing the right social media platforms for your business can be tricky – luckily we've created A three-step guide to choosing the best social media platforms for your business to help you.
*Image courtesy of Vector
Social media news September Social Media Update BuzzFeed Instagram co-founders Snapchat Live Stories