Frazer Watson is VP-Sales UK/Ireland at AMR designer and manufacturer iFollow.
---
Interest in Autonomous Mobile Robots (AMR) is growing at a rapid pace. The classic combination of cameras and QR code navigation robots are proliferating in logistics environments across the UK for receiving, dispatch and order picking applications. This is due to the falling costs of technology combined with a growing list of good reasons to make this investment – reasons such as changing workforce demographics, constraints on the supply and movement of merchandise, supply chain disruption, a covid-generated recovery in online retail, growing interest in Industry 4.0 technologies and an ongoing drive to improve productivity.
In a world where uncertainty is becoming the daily experience, businesses in all industries must strive to improve accuracy, efficiency, productivity and sustainability. The primary consideration should be gaining a competitive advantage, as those who don't or give up too late will fall behind.
Many logistics operations are reconfiguring their warehouse networks around flexible and scalable solutions to provide fast and reliable fulfillment closer to the growing number of customers in urban centers. The scarcity of available goods and transport restrictions in these areas often lead to the need to redesign the storage park and interior layout. They envision new thinking on how best to serve these facilities with material handling equipment. Automated material handling solutions that do not require dedicated infrastructure, such as AMRs, occupy a prime position on the flexibility spectrum. This means they can help sustain warehouse operations, while improving operations.
Many will still perceive mobile robots as cutting-edge technology and are only now considering an AMR solution for the first time. In doing so, there are five key questions they should ask themselves:
1. What can the AMR carry?
There are two parts to this consideration, with carrying capacity usually being the first. For many AMRs this can be a constraint, but those capable of carrying loads up to 1.5T will be suitable for a wide range of applications in warehouses and distribution centres. The other half of the load-carrying question is what type of load-carrying unit the AMR can handle. Most warehouses see a wide range of transport units passing through their doors, especially as the number of suppliers increases and their locations become more diverse. This can result in a mix of traditional pallets, europallets, roll cages or plastic containers etc. An AMR that can handle all of this will be an incredible asset to warehouse versatility.
Some systems will need to perform a specific task, concentrated on a single load-carrying unit. For example, the handling of rolling cages is a fundamental element of the intralogistics operation of large retailers. The ability of a mobile robot to transport roll bars safely ticks the box for this sector; moreover, a single AMR capable of handling two roll bars at the same time for a total load of 1,300 kg will be even more attractive. Considering the height of the roll bars, a low profile height, like the 17cm height of iFollow's AMRs, will aid in smooth passage through entrances. A low height also allows a device to fit under any surface or load bearing unit.
2. Under what circumstances will AMRs work?
The warehouses may look quite similar, but an AMR navigating the building will have a different perspective. For starters, will it be too cold for the mobile robot to work – or even, in rare circumstances, too hot? If so, an AMR capable of operating comfortably in temperatures from -25°C to +40°C without degrading battery life will be needed. Cold stores looking for ways to minimize their normally demanding power consumption will especially appreciate a mobile robot capable of carrying two roller cages at once to move more product quickly through a cold area, while ensuring that the doors of the cold store remain closed for most of the day.
Speaking of batteries, such operations will be looking for 16 hours of battery life with timely charging to maximize uptime. A full charge from 10% to 100% in 1h30 would be practical. Given the relative roughness of many warehouse floors, a heavy-duty AMR, designed to withstand the rigors of constant moving over the long term, will be a great advantage.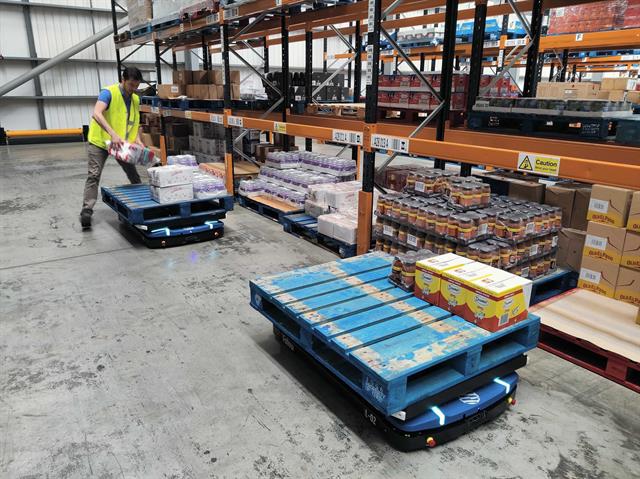 3. Will the AMRs be safe in the warehouse?
AMR technology provides a productivity advantage without compromising operator health and safety. Route planning software prevents robots from driving towards fixed obstacles, such as walls or shelving, as well as moving objects, such as workers, that are detected by machine sensors. AMRs equipped with LIDAR arrays navigate in "safe zones" for forward or reverse movement – if anything should be detected in these zones, the AMR's motor stops and the brakes are applied .
Using AMR to automate the movement of goods, hoops, pallets and other storage units between these areas in a warehouse is a very effective method of separating people from vehicle traffic to avoid collision risks.
4. Can I rely on mobile robots?
Warehouse operations are typically rigorous with repetitive hauling of heavy loads over rough floors over long shifts. Obviously, this suggests paying close attention to the quality of the robot itself. What is it made of? How well is it done? The wide range of AMR vendors promoting mobile robots for warehouse applications will offer systems with varying degrees of build quality. Some are built to ensure low costs, while others are designed to provide better life cycle cost benefits and will have undergone a thorough quality process.
Compliance with local standards is fundamental: buying a fleet of mobile robots, for example, without certification would be a huge risk. The ability to provide local support and parts for rapid response will be important.
5. Will I win a solution rather than a product?
Every business is different. A supplier that designs and manufactures its own robots and uses its own software will be able to tailor solutions to meet the specific needs of individual applications. A well-thought-out and designed AMR solution will always retain flexibility when it comes to internal transport because, unlike AGVs or conveyors, it does not require a fixed infrastructure. Distribution centers often work with a combination of pallets and roll cages, the ratios of which can change over time. An AMR that allows quick and simple exchange of support frames will easily switch from cage transporter to pallet or trolley use, and vice versa.
Intelligent mobile robots offer a flexible solution that can be easily adapted to changing needs, making the technology ideal for supporting warehouse operations facing ever-shorter delivery time demands from distribution channels. growing e-commerce as well as in-store orders.