Tune into the news blog throughout the day for the latest from Goulburn Valley.
Happy Friday! It's Caitlyn Grant, ready to explode into the day with the news blog.
We are going to have an unforgettable day with maximum temperatures of 31 degrees, so put on some sunscreen.
UPDATE, 3:30 p.m.: Some good sports
Speaking of the weekend, this one is gearing up to be a big one on the pitch.
The Northerners and Central Park-St Brendan's will renew their rivalry on Saturday in the 13th round of the Cricket Shepparton Haisman Shield season. Senior sportswriter Aydin Payne has captured the ins and outs of what should matter here.
Sportswriter Zac Standish covered a predictable big old clash this weekend, with Euroa desperate to keep the season alive as they welcome rivals Nagambie to town.
Last year, the region's four leagues were once again at the mercy of the pandemic, which ultimately cut the sporting season far short of what many had hoped. Sportswriter James Kleeman has compiled everyone who put their heart and soul into the season with a roundup of the best and fairest of 2021.
UPDATE, 3 p.m.: What's new this weekend?
As our great national icon would say, it's almost time to get into football and open the Tia Maria, the weekend is near.
Don't get caught without a plan! What better way to spend the next two sunny days than in our very own Goulburn Valley?
Whether it's paddleboarding on the lake or perhaps a leisurely stroll through the market rows of Violet Town, there's plenty on offer this weekend.
Take a look here if you're looking for something a little cool, different and unusual.
UPDATE, 2 p.m.: Victoria to lift Code Brown
Victoria prepares to raise her Code Brown emergency alert.
First issued in January, the measure will be in place for just over three weeks when it is lifted Monday at noon.
The Code Brown alert was put in place to help hospitals and health services deal with the increased pressure of the Omicron wave.
Non-elective surgeries will also be ramped up next week following a reduction in hospitalizations statewide.
Private hospitals will be able to perform up to 50% of all elective surgeries in Melbourne and up to 75% in regional areas.
Public hospitals in the Victoria region will also be able to resume all elective Category 2 operations, which are surgeries for those who need treatment within 90 days.
UPDATE, 1 p.m.: Official opening of the GSSC by the Victorian Prime Minister and Minister for Education
Victoria Premier Daniel Andrews and Education Minister James Merlino visited Greater Shepparton Secondary College this morning to officially open the school.
The Prime Minister and Minister both spoke at the school's dedication ceremony, along with Shepparton MP Suzanna Sheed, school headmistress Barbara O'Brien and school captains .
Mr Andrews began his speech by thanking those who fought and pushed for Shepparton to receive 'the best'.
"It's the product of so much hard work, the easiest thing would have been to never take on it," he said.
"I'm not talking about our government, I'm talking about the leaders of this local community, education officials, parents, the community of Shepparton who have said, 'We can do more than just improve existing schools, we we can build something new and unique'."
The premier said the school was a 'deep investment' and unlike anything he had ever seen before.
The new facility currently accommodates up to 2,700 students and is part of the Government of Victoria's $140 million Shepparton Education Plan.
Find out the story as the day progresses and in Monday's paper.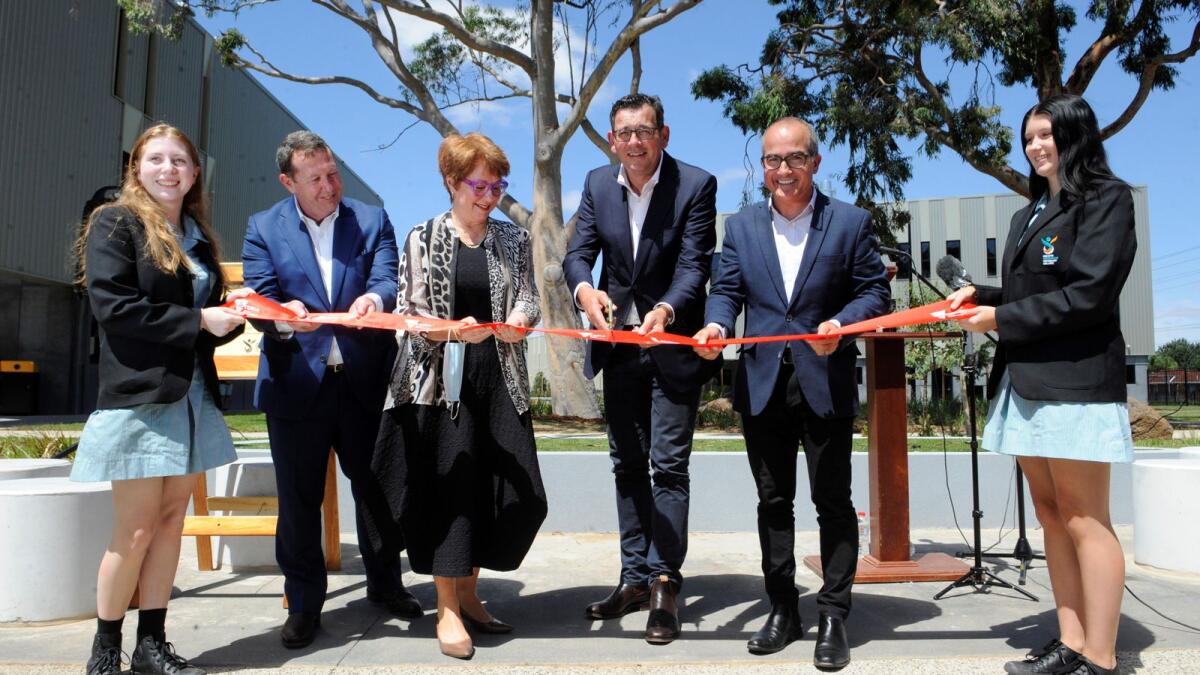 UPDATE, 10:50 a.m.: A bit of a journey
On a happier note for the environment, following the success of the Compost Waste Management System, Greater Shepparton City Council is rolling out the next batch of free purple compostable bin bags for residents.
Have a geeze on the finer details here.
If you're hoping to find out the list of successful First Nations artists on the first day of the Shepparton Treaties, tomorrow is the last day you can get your second shot to attend.
The Rumbalara Football Netball Club and the Victorian Aboriginal Community Controlled Health Organization will be holding a walk-in vaccination clinic tomorrow at Rumbalara in Mooroopna from 10 a.m. to 4 p.m.
More information about the clinic and what is shaping up to be an exceptional event can be found here.
UPDATE, 10 a.m.: Topless
In case you missed it, the Shepparton Hotel is going down brick by brick at a fairly rapid pace.
The historic hotel is being reduced to rubble by contractors brought in following an order from Greater Shepparton City Council for emergency demolition.
Here's a recent update on where they stand:
UPDATE, 9:15 a.m.: Victorian COVID-19 data
Victoria has recorded 8,521 new cases of COVID-19 and sadly 13 deaths. Today's numbers are down from 9,391 cases yesterday.
There are currently 553 people hospitalized with the virus, of which 82 are in intensive care and 23 are ventilated.
UPDATE, 9 a.m.: What's in the news today
Shepparton is set to host a regional White Night event, providing an estimated $3 million boost to the city and attracting around 40,000 visitors. White Night will transform the city through illuminations, projections, music and interactive works by talented local and national artists. Fun!
Today, we remember World War II veteran Joe Clarke as a busy and generous soul. Mr Clarke, who died just before his 97th birthday, was part of the Shepparton RSL for 60 years and was praised for his generosity as a community volunteer.
Entering its 26th year, the Shepparton Festival has released an immersive program of events and experiences. This year's theme 'Thrive' encompasses all that makes the Goulburn Valley vibrant, built on the idea that hard times have made the region stronger.
And sad news for our furry friends, koalas will be listed as endangered, instead of vulnerable, across New South Wales, Queensland and the ACT in a bid to protect declining populations. On Friday, Federal Environment Minister Sussan Ley announced the deterioration of the conservation status. Fortunately, as of last year, Victoria's koala population is still safe.